Wholesale Produce Distributors Massachusetts – Earmata Can Ship To You From Our Location In NYC
If you've been searching for wholesale produce distributors in Massachusetts, E.Armata Inc can ship to you from our location at the Hunts Point Market in NYC. We are capable of shipping our produce all across the east coast. For immediate questions and inquiries, please click here to contact a member of our team.
How Does Our Shipping Process Work?
Who Are Our Grower/Shipper Affiliations?
E. Armata currently works with 100s of grower/shippers.  We are proud of the strong relationships we have built with these grower/shippers over four generations; relationships that extend past the business table.
We have established trust with everybody involved in the process. From the grower – the first source of our business; to the trucker and the transportation of our products; to our employees – who do an excellent job handling our products and services. And above all, the customers who we can count on every day.  For our business to succeed, you can't have anyone without the other.
For more information on our business affiliates, please click here.
Who Are Our People?
As President of E. Armata, Inc., Chris Armata oversees the general administration, as well as the trend and focus of the company. He believes in forward thinking and technology, and never sitting still. Chris places a high value on his company's most significant assets – their integrity, their people, and their experience – along with the simple approach of always looking ahead. These attributes are what Chris feels will continue to propel E. Armata successfully into the future.
Chris started his industry experience at home, having never been given anything without earning it, and learning everything about the business from his father, Nick. From the age of 14, Chris worked with his father in the summers, starting from the bottom, sweeping warehouses and unloading freight cars when they arrived.
After attending college, Chris started in the company as a warehouseman and worked his way from Checker to Foreman, later becoming a salesman at 23, which was a highlight for Chris. During these fun and challenging times, Chris enjoyed working alongside the other family members. As a salesman, he was responsible for selling western vegetables at night, while his father, Nick, would buy during the day. The challenge of building the vegetable business with his father was a career highlight, as Chris was learning from the best.
E. Armata has evolved and grown tremendously over time, with Chris and his brother, Paul, acting as sole owners since 1997. Chris is proud to have a strong team that he feels is one of the best in the business; with people who fit the company and excel in the roles they fill.
For information on other members of our team, please click here.
Best Place To Buy Fruit Wholesale in Massachusetts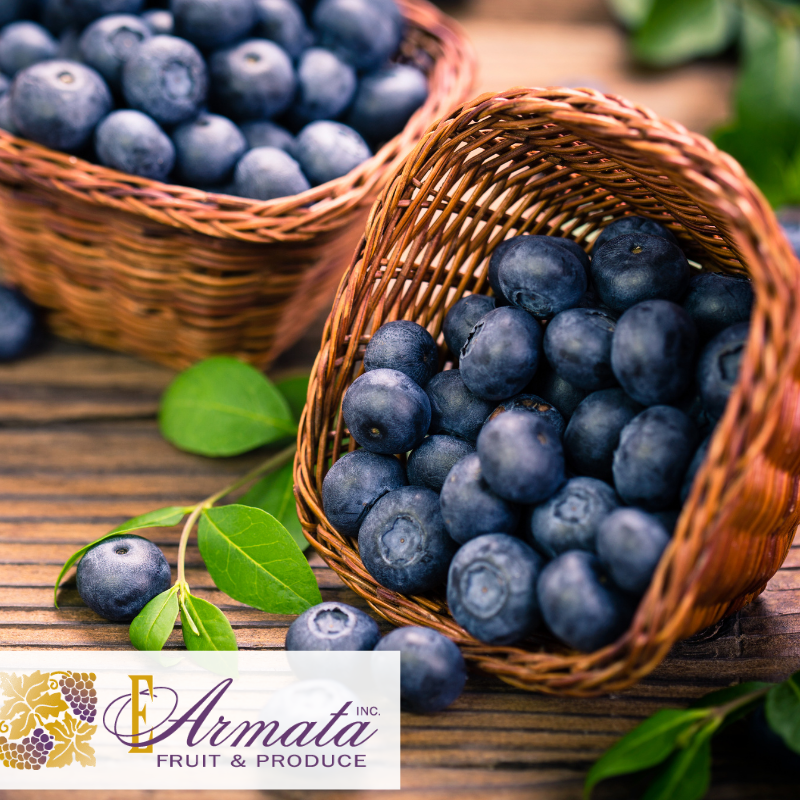 As a family-run fruit and produce wholesaler, we help you choose from a large selection of high-quality fruits and vegetables in a way that saves you both time and money. Here at E. Armata Inc., our wholesale produce distributors in Massachusetts allows you to help your business grow and serve the best quality produce to your customers. We have spent decades cultivating relationships with farmers and growers and are proud to be a part of the Hunts Point Market located in the Bronx, NY. 
Why Choose E. Armata at Hunts Point Market
Earmata Inc. is a family-owned fruit wholesale NYC operation in the Hunts Point Market, and we've been in business for over 100 years. After decades of hard work, we are now one of the largest wholesalers operating in Hunts Point, which is the best place to find vibrant wholesale produce distributors in Massachusetts. Our team works closely with produce growers to ensure the freshest fruit and vegetables you need to ensure your business' success. Here is a look at what sets us apart from other wholesalers:
State-Of-The-Art Facility

– As our business continues to grow, we make it a priority to keep our facility and equipment upgraded. Our facility consists of over 60,000 square feet of temperature-controlled storage. We have a separate dedicated warehouse and repacking facility that allows us to organize our racking system. Our facility offers a wider variety of fresh and safely stored produce that can easily be picked up in Hunts Point or delivered by our magnificent fleet of trucks. 

Stellar Racking System –

Our racking system involves RF guns that allow us to maintain highly accurate inventory and traceability. We can fully trace a package from the time it's unloaded into the store until it's delivered to the customer, which allows our customers to pick their orders more efficiently. 

Dedication to Quality –

E. Armata's fruit wholesale NYC has been certified by the Safe Quality Food Institute (SQF). The SQF program is a widely recognized food safety program, and its codes are designed to meet industry, regulatory, and customer standards for all supply chain sectors. Our team is committed to providing the highest quality produce to our customers. 
Contact E. Armata INC
If you are looking for quality wholesale produce distributors in Massachusetts, look no further than E. Armata Inc. at the Hunts Point Market. For years our team has taken great pride in our operation as we continue to provide premier service to our customers. To learn more about our operation, contact our team today!
What Fruit Has The Lowest Amount of Carbs? 
It's challenging to get enough fruits and vegetables every day, but it's vital for your health. Fruits contain nutrients that support our body's daily functions and reduce our risk of health issues down the line. At E. Armata Inc., we offer wholesale produce distributors in Massachusetts to distribute some of the freshest fruits and vegetables to our customers. We understand that dieters may be wary of certain fruits if they're trying to cut carbs, so we would like to share some information about the lowest carb options available. 
Fruits With The Lowest Amount Of Carbs
Eating fruit is necessary for maintaining a healthy and balanced diet. Fruits are packed with natural sugars that contribute to your daily carb count. Along with these sugars, it also has vitamins and minerals that your body needs. Fruits are one of the healthiest sources of carbs you can eat. Our team would like to inform you about the lowest carb fruits available through wholesale produce distributors in Massachusetts to help you make every carb count. Here are some of the best low-carb fruits:
Watermelon
There's nothing more refreshing than a slice of watermelon on a hot summer day! Watermelon is one of the most popular fruits during the summer and is the option that scores the lowest in carbohydrates. Watermelon packs only 7.55 grams of carbs per 100 grams of fruit. Since it's also low in fiber, most of the carbohydrates are absorbed. 
Berries
If you're trying to be mindful of your carbohydrate intake, berries are an excellent choice. Of all the berries out there, strawberries have the fewest carbs, and blackberries have the fewest net carbs. Every 100 grams of strawberries has about 7.68 grams of carbohydrates. Raspberries are another tart and delicious choice. Berries are packed with nutrients and antioxidants.
Cantaloupe
Cantaloupe is another low-carb option that is perfect for a hot day. Cantaloupe contains only 8.16 grams of carbohydrates, and 0.9 grams of fiber per 100 grams of fruit, meaning it only nets 7.26 grams of carbohydrates. Cantaloupes and other melons are also good options for those looking to limit their sugar intake, as they are considered low-fructose fruits. 
Avocados
Avocados are, in fact, fruit and have relatively low carb content. Every 100 grams of avocado has an estimated 8.53 grams of carbohydrates. Avocado is also a good source of monounsaturated fats, which are good for heart health. 
Contact Us
At E. Armata Inc., we have offered wholesale produce distributors in Massachusetts to our customers since 1967! You can still enjoy delicious fruits this summer without having to worry about carbs. To learn more about our produce, be sure to contact our team today!
What Are The Healthiest Berries You Can Eat?
Not only are berries delicious, but they are also nutritious! Berries are full of nutrients that are beneficial to your health. Our team at E. Armata Inc. is proud to provide the freshest berries at the Hunts Point Produce Market. Here are some of the healthiest berries you can get from our wholesale produce distributors in Massachusetts:
Raspberries
This tart, juicy fruit is often used in desserts and is an excellent fiber source. Raspberries are packed with antioxidant polyphenols called ellagitannins which are useful in reducing oxidative stress. Red raspberries are the most common variety most people eat, but there are several types of raspberries. Black raspberries also have several health benefits and are especially good for reducing heart disease risk factors. 
Blueberries
Blueberries are a popular fruit full of vitamin K. They contain anthocyanins that are shown to reduce oxidative stress. Blueberries can also improve heart health by lowering bad LDL cholesterol. Blueberries can potentially lower the risk of diabetes as well. 
Goji Berries
Goji berries have recently gained popularity in the United States but have been used in traditional Chinese medicine. Goji berries contain vitamin A and zeaxanthin, which is important for eye health. Like the berries we previously mentioned, goji berries contain antioxidant polyphenols. 
Acai Berries
If you've ever tried a smoothie bowl, it was probably made with acai berries! Acai berries are high in antioxidants and can reduce blood sugar, insulin, and blood cholesterol levels. The antioxidants in acai berries may also reduce the symptoms associated with osteoarthritis. 
Strawberries
Strawberries are a favorite among many people for a reason! They are full of vitamin C and are incredible for your heart health. Strawberries can potentially lower the risk factors of heart diseases, including high cholesterol, oxidative stress, and triglycerides. Strawberries can also lower inflammatory chemicals in the blood. Most importantly, strawberries can possibly control blood sugar levels which is essential for preventing diabetes. 
Contact Us 
Berries are delicious and sweet and are an excellent addition to a healthy diet. They are low in calories but high in antioxidants, vitamins, and fiber. If you are looking for wholesale produce distributors in Massachusetts, look to our team at E. Armata Inc. Our produce is second to none, and we guarantee that you are getting the freshest berries no matter what season! Contact our team today to learn more information regarding our operation.
What Fruits And Vegetables Are In Season This Month?
To remain happy and healthy, it's important to always consume the daily recommended amount of fruits and vegetables. However, doing this alone may not fully suffice. To get the most nutritional benefits out of produce, you should focus on eating what is in season. As a top wholesale produce distributor in Massachusetts, E. Armata Inc. always has fruits and vegetables that are in season, no matter the time of year. If you'd like to learn what is in season during September, please visit our website for more information. 
September Fruits And Vegetables
As one of the leading wholesale produce distributors in Massachusetts, it is our job to have produce that is in season year-round for our customers. The month of September is no exception. Below are just a few examples of the fruits and vegetables that we distribute that will be in season locally this month:
Tomatoes.

Cauliflower.

Potatoes.

Blueberries.

Blackberries.

Pears.
The Benefits Of Eating Produce In Season
With recent technological advancements, almost any type of fruit or vegetable can be bought during any time of year. While this can help when faced with cravings for a specific produce item, it has come at the detriment to nutritional value. To gain the most health benefits from produce, items should be eaten while they are in season naturally. There are several reasons for this, including the ones listed below:
Fruits and vegetables begin to lose nutritional value once they have been picked.

Produce tastes its best when it is in season.

Transporting produce long distances in heating/cooling containers can decrease its value.   
Why Choose E. Armata Inc.
Our team knows that you have numerous choices when it comes to choosing your wholesale produce distributors in the Massachusetts area. However, we guarantee no one else can live up to the standards we strive to achieve here at E. Armata Inc., our company started with our humble founder selling lemons out of a burlap sack. Since then, we've done nothing but cultivate the relationships with growers and shippers needed to evolve into the organization that we are today. The next time you're shopping at the Hunts Point Market, let our produce speak for itself.
Contact Us  
The fruits and vegetables listed are not the only produce we distribute that are in season. To learn more about our operation, feel free to contact our team today.
Which Vegetables Are In Season In The Spring? – Wholesale Produce Distributors Massachusetts
When it comes to consuming produce, choosing items that are currently in season is typically the most optimal choice for consumption. At E. Armata Inc., our network of shippers and suppliers are committed to providing our customers with fresh, quality Massachusetts produce year-round. If you're interested in learning about the vegetables we distribute that are currently in-season during the spring, please look through our various options on our website.
Vegetables In Season During The Spring
Different vegetables thrive during different parts of the year. At E. Armata Inc., we want to make sure our customers have access to these vegetables when they are at their most valuable. Our continued commitment to quality is what led us to become a respected Massachusetts produce company. With the spring months now upon us, please see below for a few of the in-season vegetables we are proud to distribute:
Carrots.

Asparagus.

Leeks.

Spinach.

Fennel.
Benefits Of In-Season Consumption
With technological advancements in storing and transporting produce, it is now possible to consume certain fruits and vegetables year-round. While eating these types of foods at any point of the year can lead to a healthy lifestyle, it is much more beneficial to focus on eating ones that are currently in season. Reasons to consider purchasing the previously mentioned Massachusetts produce during these spring months include the following:
They are more nutritionally dense.

They taste their best during the springtime.

Growing and distributing these vegetables during spring is more environmentally friendly.
A Leader In Massachusetts Produce
At E. Armata Inc., our company was founded on the idea of quality. Over the years, what started as a small family business has been able to grow into a cornerstone of the Hunts Point Market due to our dedication to providing the highest quality fruits and vegetables available. We only allow the top-tier of growers and shippers into our network, as we want all of those who purchase our Massachusetts produce to always be satisfied.
Contact Us
No matter what the time of year, you can bet that our team at E. Armata Inc. has fresh produce ready to be purchased and delivered. Don't miss out on making quality purchases for your inventory this spring. To learn more about the vegetables we distribute that are currently in-season, or if you have any other inquiries, be sure to contact us today. We always love to hear from our customers!
How Many Berries Can You Have On Keto?
With new fad diets popping up each day, it can be hard to tell which ones you can trust. The team at E. Armata Inc. wants to inform you that keto diets have many beneficial qualities. By following the strict rules of what you can and cannot eat during this diet, you'll be able to receive the numerous advantages that come along with its intake. But how many berries can you have on keto? Our expert wholesale produce distributors in Massachusetts weigh in on this topic.    
What Is A Keto Diet?
A keto diet is one that focuses on cutting a person's carbs. During a keto diet, the goal is to consume as few calories from carbohydrates as possible. Doing so puts your body in a state of what is known as ketosis. Ketosis occurs when the body begins to burn fat as a source of energy as opposed to the commonly used glucose. When done safely, keto diets are a great way to lose weight.
How Many Berries Can You Have On Keto?
As previously mentioned, keto diets focus on limiting the number of carbohydrates taken in daily. To be effective, you'll need to define this number to between 20 and 50 grams each day. While fruits are a healthy food source, some are moderately high in carbs, meaning they would not mix well with keto. Berries, however, can be enjoyed in small portions. Though blueberries should be avoided, as their carbs can rapidly add up, berries that fit into a keto diet include:
Blackberries.

Raspberries.

Strawberries.  
The Benefits Of Keto 
Many people who choose to go on keto diets may do so to lose weight.  However, there are plenty of other benefits to be absorbed from this dietary change. By keeping the question of "how many berries can you have on keto" in mind and sticking to the answer which was provided above, you may be able to unlock the below benefits:
Control seizures associated with epilepsy.

Reduce the risk of developing certain types of cancer.

Eliminate acne.

Lower the consumption of bad cholesterol that leads to heart disease.  
E.Armata Inc. Local Berry Distributors In Massachusetts
As wholesale produce distributors in Massachusetts, the team at E. Armata Inc. understands the value fruits and vegetables can bring to a diet. We also know the drawbacks they can deliver, as consuming too many or the wrong type of berries can destroy a keto diet. Fortunately, our team distributes the ones that fit perfectly into the keto range! To learn more about this diet, and how much of other fruits you can consume while on keto, contact us today!     
What Fruit Is Lowest In Carbs?
One of the best things a person can do when trying to live a healthier lifestyle is to cut back on the amount of carbohydrates they consume. To do so, diligently monitoring the daily foods you eat is a must. Eating more fruits and vegetables should always be a decision to consider when trying to be healthier, but what fruit is lowest in carbs? At E. Armata Inc., we have just the answer.        
Watermelon, a favorite of many during the hot months of summer, comes in as the fruit that contains the lowest amount of carbohydrates. With only 7.55 grams of carbohydrates per 100 grams of fruit, consuming watermelon is a perfect way to keep this macronutrient in check. They also have a high water content, which will have you feeling full while consuming fewer calories.
Other Fruits Low In Carbs
Though watermelon is the answer to the question of which fruit is lowest in carbs, it does not mean that others carried by E. Armata Inc. don't offer similar benefits. The following fruits also contain low amounts of this macronutrient:
Strawberries.

Blackberries.

Cantalope.

Avocados.

Honeydew.

Peaches.
Benefits Of Cuttings Carbs
Since watermelons contain such few carbs, making an effort to consume this fruit as often as possible is the perfect way to cut back on them. By doing so, you open yourself up to receiving a plethora of benefits, which include:
Reduces In Appetite

: Consuming a diet that is low in carbs triggers an automatic reduction in appetite.  Studies have shown that people who have cut their carbs and increased their protein and fat intake consistently consume less calories.

Lowering Blood Sugar And Insulin Levels:

Those dealing with diabetes can particularly benefit from partaking in a low carb diet. Some people have been able to cut down their insulin dosage by almost 50% after starting one.   

Manage Your Blood Pressure: 

Those who have high blood pressure are at an increased risk of suffering from heart disease, stroke, and kidney failure. One of the most effective ways to lower your blood pressure and mitigate this risk is to cut back on your consumption of carbs.  
At E. Armata Inc., we understand the value of eating healthy. That is why we're dedicated to always providing fruits and vegetables that are of the highest quality. To learn more about our mission and our commitment to excellence, contact us today!