E. Armata is a family run fruit and produce wholesaler in the Hunts Point Market that has been in business for over 100 years. With a modest start in Manhattan at the Washington Street Market, E. Armata is now one of the largest wholesalers operating in Hunts Point and is proud to now be in the 4th generation stage. E. Armata takes great pride in managing the company with integrity and the highest quality product available for all our customers – be they a large retail customer, institutional supplier, or small grocers who visit the Hunts Point Market for quality produce. Contact our Wholesale Produce on Staten Island today if you have questions.
Over the last century, E. Armata has prospered as a leader among produce distributors in the tri-state area. Our brand prides itself on having a family tradition of loyalty to customers and partnerships with farmers and growers that span generations. We work with the most recognizable brands of fresh produce in the industry, as well as offering our own E. Armata label.
This guarantees proper cleanliness and optimizes quality to our customers. We are diligent about the inspection process and take the time to review all products being shipped out to our customers before delivery.  All of our quality teams are staffed and managed in-house at E. Armata Inc. and we take pride in being produce distributors in the Hunts Point Market that offers the freshest produce to our clients.
Food Safety:
At E. Armata Inc., we take pride in being one of the best produce distributors in the Hunts Point Market providing the highest quality products. Food safety and quality control are important in preventing food-borne illnesses such as Escherichia coli O157, Shigella, and Yersinia.  At E. Armata Inc., we are GMP-certified as well as a recipient of a 100 percent superior rating through the FDA's Hazard Analysis Critical Control Point (HACCP). Our commitment to food safety is evidenced by the practices we've implemented. Below are a few ways our team at the Hunts Point Market produces of the highest quality product:
We receive shipments daily
All of our trucks are temperature controlled
This method limits contamination of harmful bacteria and pollution many distributors experience during transport. For example, increased humidity causes increased the risk of spore and fungi production on fruits and vegetables.
We keep thorough track of our products
We specifically keep track of all the fresh food products we receive by immediately uploading a picture of them as they are delivered onto our iPad tracking system.  This means that we takethe extra time to ensure all deliverables are up-to-date in our system to ensure quality.
We employ an experienced quality control team
Our employees are trained in Hazard Analysis and Critical Control Point (HACCP) quality control.  This process consists of seven principles: hazard analysis, identifying critical control points, determining critical limits, monitoring critical points, establishing corrective actions, developing record-keeping procedures, and establishing verification procedures. This ensures we continue to be provide top-quality produce in the Hunts Point Market.
Our inspectors are USDA-trained
Our inspectors are trained by the USDA Agricultural Marketing Service inspection standards, which is a nationally recognized agency that provides the standardization, testing, and grading of all food products sold in the US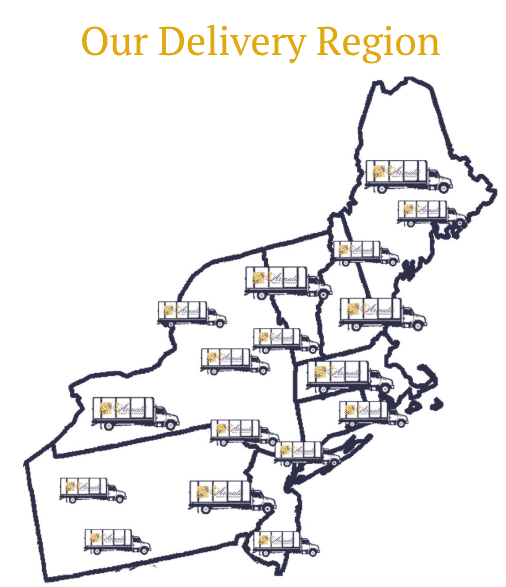 How can produce distributors located in the Staten Island Area help you grow?
At E. Armata, we don't just take orders for delivery; we accept responsibility. As produce distributors located in the Hunts Point Market, our sales team follows these steps to help you:
We deliver fresh produce daily to efficiently fulfill your replenishment needs.
Our modern trucks are temperature controlled to make certain we meet your high-quality standards all year round.
We use the latest in technological advancements in order to maximize our shippers delivery schedules to accommodate both your business's needs and our growing demand.
To ensure the safety of our drivers and the communities we serve, we monitor and track the speed of our shipping vehicles.
We are committed to meeting all of our new and long-standing customers' needs.
E. Armata, Inc highly upholds our stringent Food Safety standards that are in place for the protection of our customers, our employees, and to the end-user of our products.  We are working in conjunction with the New York City Produce Terminal market and our shippers, closely monitoring the outbreak of the 2019 coronavirus disease (COVID-19). We are implementing the recommendations issued by the Center for Disease Control and guidance issued by the State of New York in addition to the stringent requirements to maintain our current Food Safety programs dictated by our SQF, HACCP certificate(a Food Safety Management Certification used to control food safety risks and audited annually by an outside certification body that signifies a food management system accepted as an international standard of excellence) for our entire facility.
The health and safety of our employees and customers and the safety of our product is our top concern. Under that criteria, E. Armata, Inc has created and implemented a Business Continuity Plan in the event of any possible disruptions.
Please know that we are monitoring the situation and our focus is maintaining everyone's safety. We will continue to work with public health official partners to determine what support may be needed in the coming days and weeks as the situation continues to evolve.  We will continue to update you with any new information.
Chris and Paul Armata
Ariel Muza, Director of Food Safety
---
What is a Produce Wholesaler?
Few things are more delicious than fresh fruit and produce in the summer. E. Armata Inc. is one of the largest Wholesale Produce on Staten Island distributors operating in the Hunts Point Market. Our team is fully committed to our customers, and we take pride in providing them with the highest quality produce in a clean and organized cold-chain-compliant facility. To learn more about the role of a produce wholesaler, continue reading below.
What is A Produce Wholesaler?
Most shops, restaurants, and supermarkets do not grow their own produce and sell it. For this reason, they must outsource to get the products they need delivered to them. As one of the leading Wholesale Produce on Staten Island distributors, we provide an essential service to our customers that is key to moving produce from farm to table. E. Armata Inc. is a fourth-generation operation that has been servicing the tri-state area for over 100 years. Our network of shippers and growers allows us to provide businesses with wholesale produce to meet the needs of their customers.
Distribution
E.armata Inc. has dedicated years to perfecting our wholesale operation to ensure the satisfaction of our customers. Our dedication has allowed us to design a seamless process to maintain quality and excellence. Here is a closer look at our Wholesale Produce on Staten Island process:
Wholesale produce distributors must cultivate and maintain relationships with quality shippers and growers to be successful. We have been building relationships for over 100 years, so you can be assured that you are receiving the finest fruits and vegetables.
Once the produce has reached us, it is stored in our state-of-the-art facility with over 60,000 square feet of temperature-controlled storage. We use RF guns for our racking system to meticulously keep track of our inventory, which allows us to service our customers more efficiently.
Our top concern is that our customers receive their produce while it's still fresh. We use temperature-controlled trucks to keep the produce fresher longer and monitor our drivers' speed to ensure safe drop-offs.
Contact Our Team For Wholesale Produce on Staten Island
When looking for a produce wholesaler, you want to make sure you're working with the best. E. Armata Inc. has set and maintained high standards since its inception over 100 years ago. Our commitment to excellence guarantees satisfaction and freshness. If you're looking to work with a Produce Distributor for Wholesale Produce on Staten Island, be sure to contact our team today!
---
From Our Blog
What Are The Healthiest Berries You Can Eat?
Not only are berries delicious, but they are also nutritious! Berries are full of nutrients that are beneficial to your health. Our team at E. Armata Inc. is proud to provide the freshest berries at the Hunts Point Produce Market. Here are some of the healthiest berries you can get from our berry distributors in the Bronx:
Raspberries
This tart, juicy fruit is often used in desserts and is an excellent fiber source. Raspberries are packed with antioxidant polyphenols called ellagitannins which are useful in reducing oxidative stress. Red raspberries are the most common variety most people eat, but there are several types of raspberries. Black raspberries also have several health benefits and are especially good for reducing heart disease risk factors. 
Blueberries
Blueberries are a popular fruit full of vitamin K. They contain anthocyanins that are shown to reduce oxidative stress. Blueberries can also improve heart health by lowering bad LDL cholesterol. Blueberries can potentially lower the risk of diabetes as well. 
Goji Berries
Goji berries have recently gained popularity in the United States but have been used in traditional Chinese medicine. Goji berries contain vitamin A and zeaxanthin, which is important for eye health. Like the berries we previously mentioned, goji berries contain antioxidant polyphenols. 
Acai Berries
If you've ever tried a smoothie bowl, it was probably made with acai berries! Acai berries are high in antioxidants and can reduce blood sugar, insulin, and blood cholesterol levels. The antioxidants in acai berries may also reduce the symptoms associated with osteoarthritis. 
Strawberries
Strawberries are a favorite among many people for a reason! They are full of vitamin C and are incredible for your heart health. Strawberries can potentially lower the risk factors of heart diseases, including high cholesterol, oxidative stress, and triglycerides. Strawberries can also lower inflammatory chemicals in the blood. Most importantly, strawberries can possibly control blood sugar levels which is essential for preventing diabetes. 
Contact Us For Wholesale Produce on Staten Island
Berries are delicious and sweet and are an excellent addition to a healthy diet. They are low in calories but high in antioxidants, vitamins, and fiber. If you are looking for berry distributors in the Bronx, look to our team at E. Armata Inc. Our produce is second to none, and we guarantee that you are getting the freshest berries no matter what season! Contact our team today to learn more information regarding our operation.
---
Different Types of Pears
Pears are a delicious and versatile fruit that come in many different varieties. Whether the pear ripens or if you prefer to have it eaten raw, they still taste delicious. Simply put, they are great for eating! At E. Armata Inc.., our fruit department sources produce globally. We are proud to offer the tastiest and freshest wholesale produce delivery on Staten Island. Continue reading to learn more about the different kinds of pears we distribute to our customers. If you're interested in our distribution services, please click here.
What Are The Different Types?
When it comes to pear types, there are several delicious kinds of pears available for wholesale produce on Staten Island throughout the year from our facility. Most people are only familiar with Bartlett or Anjou pears because these varieties are commonly seen in most grocery stores. However, much like apples, pears come in a wide variety of flavors that each offer their own unique eating experience. Here are some of the different pear varieties.
Bartlett
From August through January, this is the most common variety you will find. The green-gold pear boasts the quintessential pear flavor we know and love. Bartlett pears are great for baking or canning. Red bartlett pears are much sweeter than the gold variety, and are similarly good for preserving. If you prefer sweeter fruits, red bartletts may be better for eating out of hand. 
Anjou 
Like the Bartlett pears, Anjou's come in green and red. The Green Anjou boasts a mellow, citrusy sweet flavor that is delicious to eat raw. They also hold up when cooked or baked. The Red Anjou is similar in size and texture to the green variety, but this pear is sweeter and more mild. Instead of citrus notes, there are subtle hints of spice. Anjou pears are also smooth skinned, which is one of their identifiable traits. 
Asian
Asian pears are sweet and crisp. They usually have brown or green skin and are more round. They have a crunchier texture that makes them popular for eating fresh, but they are also tasty in baked dishes. 
Bosc 
Bosc or Kaiser pears have a longer and more slender neck than other pear types. This brown pear has a rougher texture and can have some hints of green or yellow. Bosc pears are sweet and crisp. If your recipe calls for poached pears, these are ideal because they hold their shape well. 
Comice
Comice pears have a very juicy flesh and they have an almost "earthy" type of flavor to them. Their shape is usually what stands out with them, as they are rounded and possess a short neck.
Seckel
Seckel pears are also a highly juicy fruit and they even carry a hint of vanilla in their taste. Many people consider seckel pears to be more of a "dessert" pear.
Contact Us For Wholesale Produce on Staten Island
At E. Armata Inc., you can be sure that you are getting some of the freshest wholesale produce on Staten Island. We work closely with our shippers and customers to provide the most delicious pears year round. If you'd like to learn more about the different pear varieties we offer,  contact our team today!
---
What Fruit Has The Lowest Amount of Carbs?
It's challenging to get enough fruits and vegetables every day, but it's vital for your health. Fruits contain nutrients that support our body's daily functions and reduce our risk of health issues down the line. At E. Armata Inc., we offer produce delivery in NYC to distribute some of the freshest fruits and vegetables to our customers. We understand that dieters may be wary of certain fruits if they're trying to cut carbs, so we would like to share some information about the lowest carb options available for your carb intake. 
Carbs in Fruit – What Is The Lowest Carb Fruit?
Eating fruit is necessary for maintaining a healthy and balanced diet. Fruits are packed with natural sugars that contribute to your daily carb count. Along with these sugars, it also has vitamins and minerals that your body needs. Fruits are one of the healthiest sources of carbs you can eat. Our team would like to inform you about the lowest carb fruits available through produce delivery in NYC to help you make every carb count. Here are some of the best low-carb fruits that can also provide you with numerous health benefits:
Watermelon
There's nothing more refreshing than a slice of watermelon on a hot summer day! Watermelon is one of the most popular fruits during the summer and is the option that scores the lowest in carbohydrates. Watermelon packs only 7.55 grams of carbs per 100 grams of fruit. Since it's also low in fiber, most of the carbohydrates are absorbed. Also an added benefit, melons themselves are known to help weight loss. 
Berries
If you're trying to be mindful of your carbohydrate intake, berries are an excellent choice. Of all the berries out there, strawberries have the fewest carbs, and blackberries have the fewest net carbs. Every 100 grams of strawberries has about 7.68 grams of carbohydrates. Raspberries are another tart and delicious choice. Berries are packed with nutrients and antioxidants. Additionally, berries are able to help stave off diseases such as type 2 diabetes. 
Cantaloupe
Cantaloupe is another low-carb option that is perfect for a hot day. Cantaloupe contains only 8.16 grams of carbohydrates, and 0.9 grams of fiber per 100 grams of fruit, meaning it only nets 7.26 grams of carbohydrates. Cantaloupes and other melons are also good options for those looking to limit their added sugars intake, as they are considered low-fructose fruits. 
Avocados
Avocados are, in fact, fruit and have relatively low carb content. Every 100 grams of avocado has an estimated 8.53 grams of carbohydrates. Avocado is also a good source of monounsaturated fats, which are good for heart health. 
Local Wholesale Produce on Staten Island & Beyond
At E. Armata Inc., we have offered produce delivery in NYC to our customers since 1967! You can still enjoy delicious fruits this summer without having to worry about carbs. To learn more about our produce, be sure to contact our team today!
---
What Are The Benefits Of Berries?
Berries are tiny, delicious, and powerful allies for your health. Not only are they good for breakfast and desserts, but they also deliver several benefits. Our berry distributors in Queens that E. Armata Inc. would like to share some of the benefits of berries, so continue reading to learn more!
Benefits of Berries
Berries are small but mighty fruits often referred to as nature's candy. Their very appearance indicates that they are good for you, as vibrantly colored fruits and vegetables provide the highest levels of nutrients. You can enjoy them alone, put them in desserts or salads, or use them to adorn some of your other favorite dishes. Here are some of the benefits of berries you can enjoy:
Antioxidants

– Most berries are jam-packed with antioxidants. Antioxidants protect your cells and help keep free radicals under control, as they can cause oxidative stress and damage. 

Fiber

– Fiber is a critical part of any healthy diet, and berries contain a lot of fiber. Fiber helps you maintain your weight and stay regular. Raspberries, blueberries, and blackberries are available from our berry distributors in Queens and can help add more fiber to your diet. 

Weight Loss

– Berries are low in calories and contain a lot of water, so they can keep you full for longer. This can help you manage your diet and potentially aid in weight loss. 

Diabetes Prevention and Management

– Berries can help improve your insulin response and blood sugar levels, which is crucial for managing and preventing diabetes. 
It's no secret that berries are extraordinarily nutritious. Including them in your diet can help you improve your health and wellness in a delightful way! If you are looking to incorporate more colorful and healthy foods into your diet, our berry distributors in Queens have an outstanding selection all year round! 
Contact Our Berry Distributors in Queens
At E. Armata Inc., our berry distributors in Queens are proud to serve our customers fresh, high-quality fruits all year round. We have regular availability of raspberries, strawberries, blackberries, and blueberries arriving fresh daily to ensure we fulfill our customers' needs! To learn more about the benefits of berries, be sure to contact us today!
---
The Best Roasted Eggplant Recipes
Eggplants are in their peak season during the summer, from July through October. Eggplant is a summer favorite that can be enjoyed in many ways, but roasted eggplant is one of our favorites! E. Armata Inc. is one of the best produce companies in New York that has an excellent selection of fresh fruits and vegetables arriving daily. Our staff would like to share our favorite recipe for the best tasting roasted eggplant, so continue reading to learn more! 
Best Roasted Eggplant Recipes 
Roasted eggplant is a delicious and flavorful low-carb side dish that is surprisingly easy to make! There are many different types of eggplant available from our produce companies in New York, but we recommend using Globe, Italian, or Rosa Bianca eggplants. Globe eggplants are the largest variety, so they're perfect for roasting. This recipe will turn this common vegetable into a mealtime staple:
Preheat your oven to 425 degrees. Chop two eggplants into round slices or 1-inch diced pieces. Thinner slices will caramelize quicker, so adjust the baking time depending on the size of the portions. 

Mix the chopped eggplant with some olive oil, salt, and pepper in a bowl. Eggplant will soak up the oil very quickly, so mix everything right away. 

Roast your eggplants on a baking sheet lined with parchment paper or aluminum foil for around thirty minutes, or until the eggplant is caramelized and golden brown. You should gently stir your eggplants once in the middle of cooking. 
Eggplants are pretty tasteless raw, but their flavor completely transforms when you roast them in a hot oven. Roasted eggplant is exceptionally versatile, so enjoy it as a snack with dip, mix it with your favorite pasta sauce, or serve it tossed in a salad! 
Contact Us For Wholesale Produce On Staten Island
If you've picked up some eggplant from our produce companies in New York and don't know how to use them, try this recipe today! Roasting eggplant is a foolproof way to get the most flavor from this classic vegetable. To discover more ways to use fresh eggplant or for more information about our selection, be sure to contact E. Armata Inc. today!
Review
Overall Rating





How do others rate this company?
Company
Service Offered