Produce Distributors in the Bronx
E. Armata is a family run business, operating for over 100 years as fruit and produce distributors in the Bronx. With a modest start in Manhattan at the Washington Street Market, E. Armata is now one of the largest wholesalers operating as produce distributors in the Bronx and is proud to now be in the 4th generation stage. E. Armata takes great pride in managing the company with integrity and the highest quality product available for all our customers – be they a large retail customer, institutional supplier, or small grocers who visit the produce distributors in the Bronx for quality produce. Over the years, E. Armata has prospered as a leader among produce distributors in the Bronx. Our brand prides itself on having a family tradition of loyalty to customers and partnerships with farmers and growers that span generations.
Meet our team of executives:
Chris Armata:
Because he is President, Chris Armata oversees the general administration, as well as the trend and focus of the company. E. Armata's success stems from his belief in forward-thinking and technology as well as the philosophy of never sitting still. Chris places a high value on his company's most significant assets – their integrity, their people, and their experience – along with the simple approach of always looking ahead. These attributes are what Chris feels will continue to propel E. Armata successfully into the future as produce distributors in the Bronx.
Paul Armata:
As Vice President of E. Armata, Inc., Paul Armata handles purchasing and monitors sales for the Western Vegetable Division. Paul also oversees warehouse functions, such as managing the crews, warehouse operations, trucking, and overall sales. As part of this process, he also supervises customer receivables. Paul enjoys interacting with customers and believes that having good customer relations is the key to continued growth. Paul is proud of the family business, its integrity, and reputation along with their hardworking employees, and a legacy of being high-quality produce distributors in the Bronx.
John Acompora:
As Treasurer of E. Armata, as well as Managing Director of E. Armata's Fruit Division, John Acompora, "Ackie," handles fruit purchasing, oversees fruit sales, and manages all aspects of the Fruit Division. Ackie enjoys cultivating the relationships with customers and grower/shippers, and usually begins his workday around 4 am. Ackie first joined E. Armata's team of produce distributors in the Bronx in 1978 when Nick Armata hired him to unload trailers. Ackie worked his way up from Unloader to Checker, then Foreman, and eventually Salesman.
Aside from our executives, we have a full team eager to make E. Armata the best of the best. From the gentleman sweeping the floors to our men on the forklifts at E. Armata, we believe that our employees are the backbone of our company. We have employees that have been a part of our team for over thirty years. No matter what your role is, at E. Armata, we all grow together.
We focus on building relationships:
As some of the top produce distributors in the Bronx, E. Armata currently works with 100s of grower/shippers.  We are proud of the strong relationships we have built with these grower/shippers over four generations; relationships that extend past the business table.
We have established trust with everybody involved in the process. From the grower – the first source of our business; to the trucker and the transportation of our products; to our employees – who do an excellent job handling our products and services. For our business to succeed, you can't have anyone without the other. As one of the largest produce distributors in the Bronx our shipping family is quite extensive. Here are a few of the shippers we've added to our family:
Alpine Fresh
B&W
Bengard
Berry lovers
C&B Farms
Del Monte
Dole
Jim Pandol & Company
Kern Ridge
Mucci Farms
SOL
ValVerde vegetable co.
& many more!
How can produce distributors in the Bronx help you?
At E. Armata, we don't just take orders for delivery; we accept responsibility. As some of the top produce distributors in the Bronx, our sales team follows these steps to help you:
We deliver fresh produce daily to efficiently fulfill your replenishment needs.
Our modern trucks are temperature controlled to make certain we meet your high-quality standards all year round.
We use the latest in technological advancements in order to maximize our shippers delivery schedules to accommodate both your business's needs and our growing demand.
To ensure the safety of our drivers and the communities we serve, we monitor and track the speed of our shipping vehicles.
We are committed to meeting all of our new and long-standing customers' needs.
Check out our produce list:
At E. Armata we have an extensive list of fruit and produce available to our customers. As produce distributors in the Bronx we have one of the most extensive inventories. We've broken down our produce into the following categories:
To provide our customers with the freshest berries, we have regular availability of strawberries, blackberries, blueberries, and raspberries, all arriving fresh daily. Whether it be a product of USA or imported, we are sure to fulfill our customers' needs with the best fruit possible coming from top shippers and growers.
E. Armata's Eastern Vegetable department carries a full line of items from Florida up the East Coast through Canada as well as Texas and Mexico. We partner with top growers and shippers to bring to you the highest quality produce available.
The fruit department sources product globally, including but not limited to the United States, New Zealand, Chile and the South Americas, California, Morocco, Spain, and South Africa, Vietnam, China, and Mexico.
Herbs are sourced year-round from the Middle East and South America in order to provide the freshest and most affordable product.
E. Armata is proud to be amongst the leading produce distributors in the Bronx of melons on the east coast. Decades of long partnerships with our growers from Central America, Texas, Florida and up the east coast has solidified our ability to best serve our cherished and much appreciate customers.
Mushrooms are delivered fresh daily to E. Armata from local growers only a few hours away. We also work with exotic mushroom suppliers, providing a broad range of specialties.
The potato and onion department is one of E. Armata's fastest expanding in the past three years. With the expansion of our warehouse space three years ago, E. Armata has found a home for our growing potato and onion program.
At E. Armata the salads are rotated continuously to offer the most extended shelf life, the best quality for our customers.
We currently handle a vast amount of  Specialty Items which are both flown in and trucked daily from around the world and domestically. We source our hothouse items from the following areas: Holland, Canada, Belgium, Spain, Israel and the USA.
E. Armata's tomato department is backed by over 100 years of combined experience in purchasing, selling, and repacking tomatoes, and is regarded as one of the elite tomato produce distributors in the Bronx.
The constant growth and expansion of cultures in our society call for extra measures to meet the needs and demands of the same. We have added a full line of tropical fruits and vegetables, imported from high-quality growers in Central and South American countries.
 We are fortunate to have relationships with the most respected growers from California, Mexico, and Peru. These alliances have allowed us to source the freshest, most in-season products from all across the Western hemisphere.
 As produce distributors in the Bronx, we handle Bunch Spinach, Baby Spinach, Spring Mix (mesclun), limes, and Watermelons all packed in our exclusive E. Armata label.
Food Safety at E. Armata:
We take pride in being one of the best produce distributors in the Bronx that provides the highest quality products. Food safety and quality control are important in preventing food-borne illnesses. Our produce distributors in the Bronx are recipients of a 100 percent superior rating through the FDA's Hazard Analysis Critical Control Point (HACCP). Our commitment to food safety is evidenced by the practices we've implemented. Below are the precautionary steps we take to uphold our high standards:
We receive shipments daily
This guarantees proper cleanliness and optimizes quality to our customers. All of our quality teams are staffed and managed in-house at E. Armata Inc. and we take pride in offering the freshest produce to our clients.
All of our trucks are temperature controlled
Our temperature controlled method limits contamination of harmful bacteria and pollution many produce distributors in the Bronx may experience during transport. For example, increased humidity causes increased the risk of spore and fungi production on fruits and vegetables.
We keep thorough track of our products
By specifically keeping track of all the fresh food products we receive we are able to immediately upload a picture of the produce as soon as they're delivered onto our iPad tracking system.  This means that we take the extra time to ensure all deliverables are up-to-date in our system to ensure quality.
We employ an experienced quality control team
Our employees are trained in Hazard Analysis and Critical Control Point (HACCP) quality control.  This process consists of seven principles: hazard analysis, identifying critical control points, determining critical limits, monitoring critical points, establishing corrective actions, developing record-keeping procedures, and establishing verification procedures. This ensures we continue to be top-quality produce distributors in the Bronx.
Our inspectors are USDA-trained
Our inspectors are trained by the USDA Agricultural Marketing Service inspection standards, which is a nationally recognized agency that provides the standardization, testing, and grading of all food products sold in the US.
E. Armata and the community:
Our Foundation: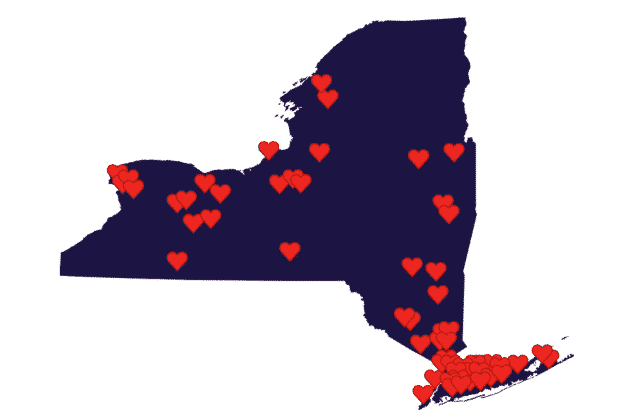 As produce distributors in the Bronx we're involved in many charitable organizations. The Louis J. Acompora Memorial Foundation is one we've taken a special interest in. The Foundation was started in 2000, after the tragic death of Louis Acompora. On March 25, 2000, in his first high school game, tragedy struck. With his parents on the sidelines, he blocked what appeared to be a routine shot with his chest. He took a few steps and collapsed on the field. The coaches and trainers rushed out, and after realizing Louis was not breathing, they began to administer CPR. The paramedics arrived almost 15 minutes after Louis' collapse. Unfortunately, it was too late and Louis passed away at the age of 14.
The Louis J. Acompora Memorial Foundation is committed to improving sports safety, with a special focus on placing automatic external defibrillators (AEDs) in all schools and youth athletic organizations. We are dedicated to educating and sharing information on commotio cordisand sudden cardiac arrest (SCA). We support Public Access Defibrillation (PAD) programs and will investigate methods of developing and improving chest protection for all athletes.
Our Website:
At E. Armata, we regularly engage with our customers through our website. As produce distributors in the Bronx, we feature plenty of tips our customers can try to stay healthy. Some of our featured articles include:
Cauliflower
There are many unique ways in which you can prepare cauliflower. Some benefits of incorporating cauliflower into your diet include decreased inflammation, improved digestion and detoxification, and adding high levels of vitamins to your diet.
Eggplant
You should be consuming 2-3 cups of vegetables a day, which means your plate should be half- filled with vegetables at every meal. Making sure your body is receiving enough fruits and vegetables is extremely important. Without them, your body can suffer. This is why eggplants are a great healthy addition to your meal.  Eggplants are helpful when it comes to weight loss due to the fact that they're low in calories and carbohydrates, but still rich in nutrients.
Aside from offering some healthy advice, we feature plenty of recipes involving our fruit and produce selection. As produce distributors in the Bronx, we take pride in the large variety of products we have to offer. Here are some healthy recipes we've selected to feature on our website:
Honey-Mustard Chicken and Apples
Raw Berry Tart with Coconut Cream
Zucchini Herb Casserole
Eggplant wraps
& many others!
FAQ
Where Can I Find A Fresh Produce Distributor Near Me?
E. Armata serves clients all across the country, our primary area of distribution is the Northeast but we can ship all over.
What is E. Armata?
We are a family run fruit and produce wholesaler in the Hunts Point Market who has been servicing the tri-state area for over 100 years.
When did E. Armata Start?
With a modest start in Manhattan at the Washington Street Market, E. Armata is now one of the largest wholesalers operating in Hunts Point and is proud to now be in the 4th generation stage.
What Types of Produce Does E. Armata Offer Customers?
Our produce distributor offers Berries, Eastern Vegetables, Fruit, Herbs, Melons, Mushrooms, Potatoes, Onions, Carrots, Salads, Tomatoes, Western Vegetables, and more!
Where Does E. Armata Acquire Their Produce?
Whether it be a product of USA or imported, we are sure to fulfill our customers' needs with the best fruit possible coming from top shippers and growers.
Where Is E. Armata Located?
Our address is 114 NYC Terminal Market Bronx, NY 10474-7303.
How Can I Contact E. Armata?
Please visit our website or give us a call at 1.718.991.5600. You can also send us an email to the following address: info@earmata.com.
Summary
Article Name
Produce Distributors in the Bronx
Description
Produce distributors in the Bronx at E.Armata Inc., offer a wide assortment of produce ranging from berries to tropicals. Contact us today!
Author
Publisher Name
Publisher Logo