Shipping All Across the Northeast
E. Armata is a family run fruit and produce wholesaler in the Hunts Point Market that has been in business for over 100 years. With a modest start in Manhattan at the Washington Street Market, E. Armata is now one of the largest wholesalers operating in Hunts Point and is proud to now be in the 4th generation stage. E. Armata takes great pride in managing the company with integrity and the highest quality product available for all our customers – be they a large retail customer, institutional supplier, or small grocers who visit the Hunts Point Market for quality produce. Contact our Wholesale Produce in Maine today if you have questions. We ship all along the Northeast and can send to you if you live in Maine.
Over the last century, E. Armata has prospered as a leader among produce distributors in the tri-state area. Our brand prides itself on having a family tradition of loyalty to customers and partnerships with farmers and growers that span generations. We work with the most recognizable brands of fresh produce in the industry, as well as offering our own E. Armata label.
This guarantees proper cleanliness and optimizes quality to our customers. We are diligent about the inspection process and take the time to review all products being shipped out to our customers before delivery.  All of our quality teams are staffed and managed in-house at E. Armata Inc. and we take pride in being produce distributors in the Hunts Point Market that offers the freshest produce to our clients.
Food Safety:
At E. Armata Inc., we take pride in being one of the best produce distributors in the Hunts Point Market providing the highest quality products. Food safety and quality control are important in preventing food-borne illnesses such as Escherichia coli O157, Shigella, and Yersinia.  At E. Armata Inc., we are GMP-certified as well as a recipient of a 100 percent superior rating through the FDA's Hazard Analysis Critical Control Point (HACCP). Our commitment to food safety is evidenced by the practices we've implemented. Below are a few ways our team at the Hunts Point Market produces of the highest quality product:
We receive shipments daily
All of our trucks are temperature controlled
This method limits contamination of harmful bacteria and pollution many distributors experience during transport. For example, increased humidity causes increased the risk of spore and fungi production on fruits and vegetables.
We keep thorough track of our products
We specifically keep track of all the fresh food products we receive by immediately uploading a picture of them as they are delivered onto our iPad tracking system.  This means that we takethe extra time to ensure all deliverables are up-to-date in our system to ensure quality.
We employ an experienced quality control team
Our employees are trained in Hazard Analysis and Critical Control Point (HACCP) quality control.  This process consists of seven principles: hazard analysis, identifying critical control points, determining critical limits, monitoring critical points, establishing corrective actions, developing record-keeping procedures, and establishing verification procedures. This ensures we continue to be provide top-quality produce in the Hunts Point Market.
Our inspectors are USDA-trained
Our inspectors are trained by the USDA Agricultural Marketing Service inspection standards, which is a nationally recognized agency that provides the standardization, testing, and grading of all food products sold in the US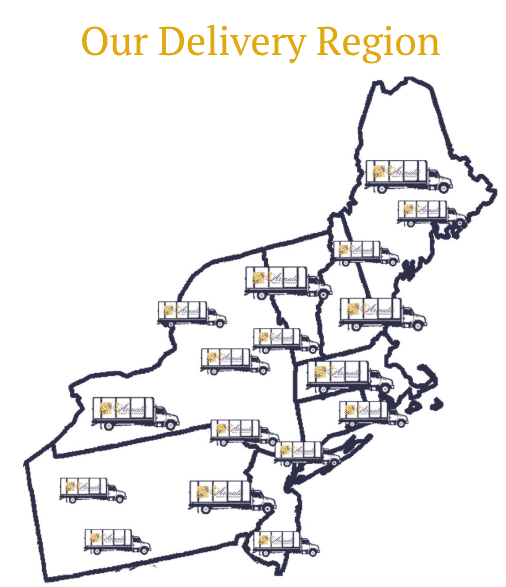 How can produce distributors located in the Northeast help you grow?
At E. Armata, we don't just take orders for delivery; we accept responsibility. As produce distributors located in the Hunts Point Market, our sales team follows these steps to help you:
We deliver fresh produce daily to efficiently fulfill your replenishment needs.
Our modern trucks are temperature controlled to make certain we meet your high-quality standards all year round.
We use the latest in technological advancements in order to maximize our shippers delivery schedules to accommodate both your business's needs and our growing demand.
To ensure the safety of our drivers and the communities we serve, we monitor and track the speed of our shipping vehicles.
We are committed to meeting all of our new and long-standing customers' needs.
E. Armata, Inc highly upholds our stringent Food Safety standards that are in place for the protection of our customers, our employees, and to the end-user of our products.  We are working in conjunction with the New York City Produce Terminal market and our shippers, closely monitoring the outbreak of the 2019 coronavirus disease (COVID-19). We are implementing the recommendations issued by the Center for Disease Control and guidance issued by the State of New York in addition to the stringent requirements to maintain our current Food Safety programs dictated by our SQF, HACCP certificate(a Food Safety Management Certification used to control food safety risks and audited annually by an outside certification body that signifies a food management system accepted as an international standard of excellence) for our entire facility.
The health and safety of our employees and customers and the safety of our product is our top concern. Under that criteria, E. Armata, Inc has created and implemented a Business Continuity Plan in the event of any possible disruptions.
Please know that we are monitoring the situation and our focus is maintaining everyone's safety. We will continue to work with public health official partners to determine what support may be needed in the coming days and weeks as the situation continues to evolve.  We will continue to update you with any new information.
Chris and Paul Armata
Ariel Muza, Director of Food Safety
---
What is a Produce Wholesaler?
Few things are more delicious than fresh fruit and produce in the summer. E. Armata Inc. is one of the largest Wholesale Produce in Maine distributors operating in the Hunts Point Market. Our team is fully committed to our customers, and we take pride in providing them with the highest quality produce in a clean and organized cold-chain-compliant facility. To learn more about the role of a produce wholesaler, continue reading below.
What is A Produce Wholesaler?
Most shops, restaurants, and supermarkets do not grow their own produce and sell it. For this reason, they must outsource to get the products they need delivered to them. As one of the leading Wholesale Produce in Maine distributors, we provide an essential service to our customers that is key to moving produce from farm to table. E. Armata Inc. is a fourth-generation operation that has been servicing the tri-state area for over 100 years. Our network of shippers and growers allows us to provide businesses with wholesale produce to meet the needs of their customers.
Distribution
E.armata Inc. has dedicated years to perfecting our wholesale operation to ensure the satisfaction of our customers. Our dedication has allowed us to design a seamless process to maintain quality and excellence. Here is a closer look at our Wholesale Produce in Maine process:
Wholesale produce distributors must cultivate and maintain relationships with quality shippers and growers to be successful. We have been building relationships for over 100 years, so you can be assured that you are receiving the finest fruits and vegetables.
Once the produce has reached us, it is stored in our state-of-the-art facility with over 60,000 square feet of temperature-controlled storage. We use RF guns for our racking system to meticulously keep track of our inventory, which allows us to service our customers more efficiently.
Our top concern is that our customers receive their produce while it's still fresh. We use temperature-controlled trucks to keep the produce fresher longer and monitor our drivers' speed to ensure safe drop-offs.
Contact Our Team For Wholesale Produce in Maine
When looking for a produce wholesaler, you want to make sure you're working with the best. E. Armata Inc. has set and maintained high standards since its inception over 100 years ago. Our commitment to excellence guarantees satisfaction and freshness. If you're looking to work with a Produce Distributor for Wholesale Produce in Maine, be sure to contact our team today!
Review
Overall Rating





How do others rate this company?
Company
Service Offered