E. Armata is a family run fruit and produce wholesaler in the Hunts Point Market that has been in business for over 100 years. With a modest start in Manhattan at the Washington Street Market, E. Armata is now one of the largest wholesalers operating in Hunts Point and is proud to now be in the 4th generation stage. E. Armata takes great pride in managing the company with integrity and the highest quality product available for all our customers – be they a large retail customer, institutional supplier, or small grocers who visit the Hunts Point Market for quality produce. Contact us for Wholesale Produce in Philadelphia today for pricing and if you have questions. We can ship to you from our location in NYC.
Over the last century, E. Armata has prospered as a leader among produce distributors in the tri-state area. Our brand prides itself on having a family tradition of loyalty to customers and partnerships with farmers and growers that span generations. We work with the most recognizable brands of fresh produce in the industry, as well as offering our own E. Armata label.
This guarantees proper cleanliness and optimizes quality to our customers. We are diligent about the inspection process and take the time to review all products being shipped out to our customers before delivery.  All of our quality teams are staffed and managed in-house at E. Armata Inc. and we take pride in being produce distributors in the Hunts Point Market that offers the freshest produce to our clients.
Food Safety:
At E. Armata Inc., we take pride in being one of the best produce distributors in the Hunts Point Market providing the highest quality products. Food safety and quality control are important in preventing food-borne illnesses such as Escherichia coli O157, Shigella, and Yersinia.  At E. Armata Inc., we are GMP-certified as well as a recipient of a 100 percent superior rating through the FDA's Hazard Analysis Critical Control Point (HACCP). Our commitment to food safety is evidenced by the practices we've implemented. Below are a few ways our team at the Hunts Point Market produces of the highest quality product:
We receive shipments daily
All of our trucks are temperature controlled
This method limits contamination of harmful bacteria and pollution many distributors experience during transport. For example, increased humidity causes increased the risk of spore and fungi production on fruits and vegetables.
We keep thorough track of our products
We specifically keep track of all the fresh food products we receive by immediately uploading a picture of them as they are delivered onto our iPad tracking system.  This means that we takethe extra time to ensure all deliverables are up-to-date in our system to ensure quality.
We employ an experienced quality control team
Our employees are trained in Hazard Analysis and Critical Control Point (HACCP) quality control.  This process consists of seven principles: hazard analysis, identifying critical control points, determining critical limits, monitoring critical points, establishing corrective actions, developing record-keeping procedures, and establishing verification procedures. This ensures we continue to be provide top-quality produce in the Hunts Point Market.
Our inspectors are USDA-trained
Our inspectors are trained by the USDA Agricultural Marketing Service inspection standards, which is a nationally recognized agency that provides the standardization, testing, and grading of all food products sold in the US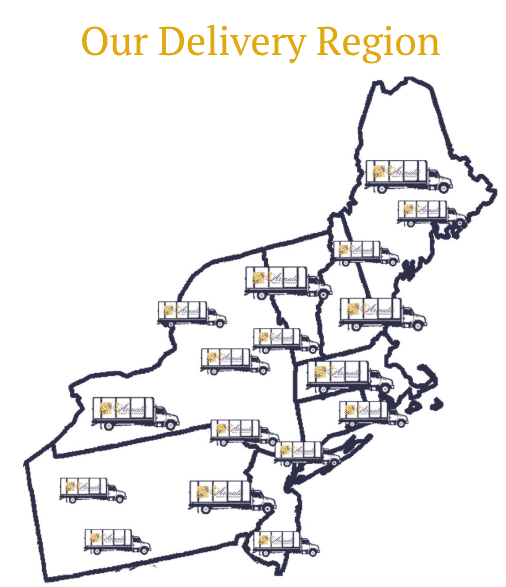 How can our Wholesale Produce in Philadelphia help you grow? – East Coast Produce Delivery
At E. Armata, we don't just take orders for delivery; we accept responsibility. As produce distributors located in the Hunts Point Market, our sales team follows these steps to help you:
We deliver fresh produce daily to efficiently fulfill your replenishment needs.
Our modern trucks are temperature controlled to make certain we meet your high-quality standards all year round.
We use the latest in technological advancements in order to maximize our shippers delivery schedules to accommodate both your business's needs and our growing demand.
To ensure the safety of our drivers and the communities we serve, we monitor and track the speed of our shipping vehicles.
We are committed to meeting all of our new and long-standing customers' needs.
E. Armata, Inc highly upholds our stringent Food Safety standards that are in place for the protection of our customers, our employees, and to the end-user of our products.  We are working in conjunction with the New York City Produce Terminal market and our shippers, closely monitoring the outbreak of the 2019 coronavirus disease (COVID-19). We are implementing the recommendations issued by the Center for Disease Control and guidance issued by the State of New York in addition to the stringent requirements to maintain our current Food Safety programs dictated by our SQF, HACCP certificate(a Food Safety Management Certification used to control food safety risks and audited annually by an outside certification body that signifies a food management system accepted as an international standard of excellence) for our entire facility. The health and safety of our employees and customers and the safety of our product is our top concern. Under that criteria, E. Armata, Inc has created and implemented a Business Continuity Plan in the event of any possible disruptions. Please know that we are monitoring the situation and our focus is maintaining everyone's safety. We will continue to work with public health official partners to determine what support may be needed in the coming days and weeks as the situation continues to evolve.  We will continue to update you with any new information.
Chris and Paul Armata
Ariel Muza, Director of Food Safety
---
What is a Produce Wholesaler?
Few things are more delicious than fresh fruit and produce in the summer. 
E. Armata Inc.
is one of the largest distributors of Wholesale Produce in Philadelphia operating in the Hunts Point Market. Our team is fully committed to our customers, and we take pride in providing them with the highest quality produce in a clean and organized cold-chain-compliant facility. To learn more about the role of a produce wholesaler, continue reading below.
What is A Produce Wholesaler? – Philadelphia Wholesale Produce Market
Most shops, restaurants, and supermarkets do not grow their own produce and sell it. For this reason, they must outsource to get the products they need delivered to them. As one of the leading Wholesale Produce Distributors in Philadelphia, we provide an essential service to our customers that is key to moving produce from farm to table.
E. Armata Inc.
 is a fourth-generation operation that has been servicing the tri-state area for over 100 years. Our network of shippers and growers allows us to provide businesses with 
wholesale produce
 to meet the needs of their customers.
Distribution
E.armata Inc
. has dedicated years to perfecting our wholesale operation to ensure the satisfaction of our customers. Our dedication has allowed us to design a seamless process to maintain quality and excellence. Here is a closer look at our process for Wholesale Produce in Philadelphia:
Wholesale produce distributors must cultivate and maintain relationships with quality shippers and growers to be successful. We have been building relationships for over 100 years, so you can be assured that you are receiving the finest fruits and vegetables.
Once the produce has reached us, it is stored in our state-of-the-art facility with over 60,000 square feet of temperature-controlled storage. We use RF guns for our racking system to meticulously keep track of our inventory, which allows us to service our customers more efficiently.
Our top concern is that our customers receive their produce while it's still fresh. We use temperature-controlled trucks to keep the produce fresher longer and monitor our drivers' speed to ensure safe drop-offs.
Contact Us For Wholesale Produce In Philadelphia
When looking for a produce wholesaler, you want to make sure you're working with the best. 
E. Armata Inc.
has set and maintained high standards since its inception over 100 years ago. Our commitment to excellence guarantees satisfaction and freshness. If you're looking to work with us for Wholesale Produce in Philadelphia, be sure to
contact our team
 today!
---
From Our Blog
Fruits That Are In Season This Spring
As the warmer weather season comes around, many customers flock to the Hunts Point Market to round up high-quality seasonal produce to cook and eat with what's fresh and flavorful. At
E. Armata Inc.
, we always have a new selection of produce available. Buying fruits that are in this season this spring will taste better and cost less. Continue reading to discover the fruits that are in season this spring! 
Spring Fruits
While it's standard to find most fruits and vegetables at any time of the year, choosing seasonal fruits from the Hunts Point Market is always the best option. Purchasing seasonal fruits is not only financially beneficial but there are several health benefits associated with eating fresh, seasonal fruits. Our team would like to share a
seasonal fruit guide
to help you discover what's at peak flavor and freshness: 
Meyer Lemon

– Meyer lemons are a sweeter lemon variety that can be a delicious addition to fruit salads, desserts, and cocktails. 

Cherries

– Cherries have a short growing season from May to June. This nutritious and delicious fruit is a perfect addition to a pie or can be enjoyed as a healthy snack! 

Pineapple

– This tropical fruit is best during the spring season. Loaded with nutrients and antioxidants, enjoy them in desserts, dinners, or raw! 

Strawberries

– Strawberries can be found all year round but taste best during the mid to late spring. These delicious berries have a strong, vibrant color and fragrant taste, so enjoy them at their best this season! 

Rhubarb

– Rhubarb signals the arrival of spring, and these bright red stalks are delicious and tart in several desserts. However, avoid eating the leaves as they are toxic. 

Honeydew –

Honeydew melon has a long season that starts in May. This colorful and delicious melon is a welcome addition to any fruit salad and is an excellent source of potassium! 
Contact The Hunts Point Market For Wholesale Produce in Philadelphia
When you shop for seasonal fruits at the Hunts Point Market, you can be sure that you are receiving top-quality produce from our team at
E. Armata Inc
. We pride ourselves on our relationships with growers and farmers and our ability to serve high-quality fruits and vegetables to our loyal customers. Be sure to
contact us
today to learn more about what's in season this spring!
---
What Are The Benefits Of Eating Cranberries?
You may only think about cranberries around Thanksgiving, but this powerful superfood has several health benefits you can enjoy all year round. At
E. Armata Inc.
, we are a leader among produce distributors at the Hunts Point Produce Market. We distribute fresh fruits, including cranberries, all year round for our customers to enjoy. Our team would like to share some of the numerous benefits of eating cranberries, so continue reading to learn more! 
Cranberries Overview
Cranberries are considered by many to be a superfruit since they are a powerhouse of antioxidants and nutrients. These tart berries go beyond your favorite cocktail or Thanksgiving side dish. While most people enjoy cranberries in the form of a juice, fresh cranberries from the Hunts Point Produce Market are packed with numerous health benefits that can improve your diet. Here are some of the benefits of
eating cranberries
:
Inflammation –

Since cranberries are packed with antioxidants, they have anti-inflammatory effects.

Digestive Health –

The compounds found in cranberries can put good bacteria into your digestive system and boost your digestive health. 

Heart Health –

Cranberries can help lower your blood pressure and improve your cholesterol levels, which improves your overall heart health. 

Cavity Prevention –

The a-type proanthocyanidins can help prevent bacteria from forming in the mouth. Cranberries can help prevent cavities and other oral health problems by controlling harmful acids in the mouth. 

UTI Management –

If you are someone who is prone to UTIs, it can be beneficial to add cranberries to your diet, as this is one of the most well-known benefits of this fruit. 
There are plenty of ways to incorporate fresh cranberries into your diet. From trail mix to adding cranberries to oatmeal or salad, you can experience benefits that help your body. 
Contact Us For Wholesale Produce in Philadelphia
With powerful nutrients and proven health benefits, cranberries can be a great addition to a healthy lifestyle and balanced diet. If you're considering adding fresh cranberries to your diet,
E. Armata Inc.
distributes this powerful superfood at the Hunts Point Produce Market. To learn more about the benefits of cranberries or for general inquiries, be sure to
contact
our produce companies
today! 
---
How Do You Keep Produce Fresh For A Month?
After a trip to the market, you've likely stocked your fridge with various ripe fruits and vegetables. However, keeping these items fresh and crisp can be a real challenge once you get them home. Our Wholesale Produce in Philadelphia at
E. Armata Inc.
would like to share a few simple strategies to help you enjoy your fresh produce longer and minimize food waste. Continue reading to learn more! 
How Do You Keep Produce Fresh?
If you're trying to use all of your groceries in their prime, it's essential to strategize your storage techniques. One of the first steps in keeping your fruits and vegetables fresh is to know which items you should and shouldn't be refrigerating. Then, you should follow these tips from our Wholesale Produce in Philadelphia to keep your
produce fresh
for a month:
Dry Storage – Some humidity can be good for produce, but too much moisture can promote mold. Make sure you are thoroughly drying your washed produce before putting them away. Some vegetables like scallions or asparagus are exceptions to this and stay fresh in water. 

Use Bags – Plastic bags can help prevent moisture in your vegetables from evaporating and keep them from going limp. You can also store hardy greens in plastic bags to keep them fresh. 

Freeze – If you really want to prolong your produce's shelf life, put your produce in the freezer! Let your fruits and vegetables reach your desired level of ripeness, then peel or cut them into pieces and freeze them until solid. Break up any frozen pieces and store them in a freezer-safe container for up to three months! 
Knowing the most effective ways to store your produce is essential if you're trying to minimize wasting food and money. Our team at E. Armata Inc. provides the freshest produce to our customers, so you can be sure that your purchases will last for the long haul with proper storage! 
Contact Us For Wholesale Produce in Philadelphia
With some extra care and time, you can extend the life of your produce to get as much use out of them as you can. Our team at
E. Armata Inc
.
offers a fresh selection of the highest quality fruits and vegetables for our customers. Be sure to
contact
us for Wholesale Produce in Philadelphia to learn more about our selections!
---
Are you interested in eating fresh and sustainable during the month of October? Autumn fruits and
vegetables are abundant at
E. Armata Inc.
Our wholesale produce Philadelphia deliver a wide selection of fresh produce to our customers all year round, but this month's collection will help warm you up on cold days or bring delightful twists on desserts! Continue reading to discover the best produce available in October!
What Produce Is Best In October?
There's nothing like the crisp taste of an apple straight from the orchard or sweet potatoes fresh from a farm. Produce is of better taste and quality when it's in season, so knowing what is at its peak during October will make shopping and meal planning easier. This month brings forward a vast selection of fresh fruits and vegetables to savor from our wholesale produce Philadelphia. Here are some of the
best produce options
available during October:
Apples –

Apples are a staple during the fall. Whether you're snacking on a crisp apple as a snack, cooking it with sugar and cinnamon for a pie, or chopping them into a salad, dozens of apple varieties are at their peak in October. 
Broccoli –

Broccoli is available throughout the year, but its peak season is October! This month's harvest will be significant and can be used in various recipes. 
Beets –

This root vegetable is at its best during the fall and can be prepared in many ways. Try roasting them to bring out their natural sweetness or grill marinated beets for a delicious side dish. 
Blackberries –

Blackberries are harvested from August to mid-October. The longer it stays on the bush, the sweeter it gets. These vitamin-packed berries make an excellent addition to any dessert! 
Brussels Sprouts –

Brussels sprouts have become a popular side dish in recent years and can be found on menus in high-end restaurants! This fall vegetable is best in October, so roast them with bacon or shave them into a salad! 
Contact Our Wholesale Produce Philadelphia
At
E. Armata Inc.
, our wholesale produce Philadelphia are here to help our customers stay stocked up with the freshest seasonal produce! To learn more about our selection during the month of October, be sure to
contact us
today! 
---
There's nothing better than a juicy, sweet plum on a warm day, but have you ever wondered which plums are considered the sweetest? At
E. Armata Inc.
, we offer wholesale produce Philadelphia to ensure our customers receive the highest quality fruits and vegetables all year round, including different plum varieties! Continue reading to discover more about the different plum varieties. 
Which Plums Are Considered The Sweetest?
Plums
are a variety of stone fruit that grows on trees and can be red, green, purple, or yellow. All plums have smooth, edible skin and sweet flesh surrounding a pit. This stone fruit grows worldwide and can be enjoyed raw as a sweet snack or used in baked goods or savory dishes. It is a commonly held belief that the darker the plum, the sweeter it will be. 
From the prevalent varieties you see at your local grocery store to the hard-to-find varieties available for wholesale produce Philadelphia, plums come in a range of flavors and colors. Here are some of the different types of plums:
Black Ruby – Black ruby plum ripens earlier than other plums and is a dark and sweet variety. 

Elephant Heart – This Japanese variety is commonly found in grocery stores and has red flesh and reddish-purple skin. When ripe, the flesh is sweet, soft, and juicy. 

Black Beauty – Fresh black beauty plums often taste sweet but can be flavorless if picked too early. 

Greengage – Greengage plums are a European variety that features green flesh and skin. Greengage plums are some of the sweetest plums available and are one of the only varieties that have green skin at the point of ripening. 

Mirabelle – Mirabelle plums are native to France. Also known as cherry plums, these yellow plums are sweet and often turned into jams and jellies. 
When it comes to sweetness, Mirabelle plums are tough to beat! Mirabelle plums are available for wholesale produce Philadelphia and can be used for making jams, pies, and jellies. 
Contact Us
Plums are delicious and tart fruits that many love to order for wholesale produce Philadelphia. To learn more about the different types of plums available for ordering, be sure to
contact E. Armata Inc.
today! 
---
At
E. Armata Inc.
, we understand the importance of a healthy diet for overall well-being, including skin health. While many foods from Wholesale Produce Philadelphia can contribute to healthy skin, one food that is often overlooked is mushrooms. Mushrooms are a delicious addition to many dishes and offer a range of health benefits, including benefits for your skin. Continue reading to discover the skin health benefits of adding mushrooms to your diet.
Mushroom Benefits For Your Skin
Mushrooms
from Wholesale Produce Philadelphia have endless culinary uses, but aside from their delicious flavor, they are also known to be beneficial for your skin health. Mushrooms are a variety of non-toxic plants known as adaptogens, which help the body adapt to or resist stress. They contain several antioxidants and have anti-inflammatory benefits that can be phenomenal for your skin. Here are some of the mushroom benefits for the skin:
Antioxidants –

Mushrooms are packed with nutrients that can benefit your skin, including antioxidants, vitamin D, and beta-glucans. Antioxidants are imperative for protecting the skin from damage caused by free radicals, which can accelerate aging and contribute to skin cancer. Vitamin D is crucial for healthy skin, as it helps to regulate cell growth and repair. Beta-glucans, on the other hand, can help to boost the immune system, which can help to prevent skin infections and inflammation.

Anti-Inflammatory properties

– One of the most significant benefits of mushrooms for skin health is their anti-inflammatory properties. Inflammation can substantially affect many skin conditions, including acne, rosacea, and psoriasis. By reducing inflammation, mushrooms can help to improve the appearance and health of the skin.

Hydration

– Mushrooms are also an excellent source of polysaccharides, which are complex carbohydrates that can help to improve the skin's hydration and moisture levels. This can help prevent dryness, flakiness, and wrinkles, leaving the skin plump and youthful.

Collagen Production

– Another benefit of mushrooms for skin health is their ability to support collagen production. Collagen is a protein that is essential for healthy skin, as it helps to keep the skin firm and elastic. As we age, collagen production naturally decreases, leading to wrinkles and sagging skin. However, by consuming mushrooms, we can help support the body's natural production of collagen, keeping the skin youthful and healthy.
In addition to their skin health benefits, mushrooms are also incredibly versatile in the kitchen. They can be used in various dishes, from soups and stews to stir-fries and salads. Our favorite ways to enjoy mushrooms include sautéing them with garlic and herbs, roasting them with balsamic vinegar, and adding them to a hearty mushroom risotto.
Contact Us: Wholesale Produce Philadelphia
Adding mushrooms to your diet can offer a range of skin health benefits, so why not incorporate more mushrooms into your meals and see the benefits for yourself? Be sure to
contact E. Armata Inc.
today to discover more about our selection of mushrooms at Wholesale Produce Philadelphia!
---
Basil is an herb commonly found at Wholesale Produce Philadelphia used in cooking and has been a popular medicinal herb for centuries. It has a distinctive aroma and flavor often used to add depth to Italian dishes, but it also has a range of health benefits that go far beyond its culinary uses.
E. Armata Inc.
would like to discuss the health benefits of basil and answer the question: is basil good for kidneys?
What Is Basil?
Basil
is a member of the mint family and is native to tropical regions of central Africa and Southeast Asia. It is now widely cultivated all over the world and is used in a variety of cuisines, from Italian to Thai. Our herb department at Wholesale Produce Philadelphia sources basil year-round from South America and the Middle East to ensure the freshest and most affordable product. Basil leaves are typically green and have a slightly sweet, peppery flavor. There are many different types of basil, including:
Sweet Basil

Thai Basil

Lemon Basil
Health Benefits of Basil
Basil has a range of health benefits, many related to its high concentration of antioxidants and anti-inflammatory compounds. Here are some of the notable health benefits of basil:
Anti-inflammatory Properties

: Basil contains compounds like eugenol and rosmarinic acid that have been shown to have anti-inflammatory properties. These compounds may help reduce inflammation in the body, which is linked to various health problems, including heart disease, arthritis, and cancer.

Antioxidant Properties

: Basil is an herb rich in antioxidants, which help protect your body against damage from free radicals. Free radicals can damage cells and DNA, leading to aging and disease.

Antibacterial Properties

: Basil has been shown to have antibacterial properties, which may help to fight infections caused by bacteria.

Kidney Health

: Basil has traditionally been used in Ayurvedic medicine to support kidney health. While more research is needed in this area, some studies have suggested that basil may help to protect your kidneys from damage caused by oxidative stress.
Contact Us
Basil is a versatile herb at Wholesale Produce Philadelphia with a range of potential health benefits. Basil is easy to incorporate into your diet and can be used in various dishes, so why not add some fresh basil to your next meal? Be sure to
contact E. Armata Inc.
today to learn more! 
---
Fava beans, also referred to as broad beans, are a type of legume that has been a staple ingredient in many cultures for centuries. They are a rich source of nutrients, including fiber, protein, vitamins, and minerals. In recent years, there has been increasing culinary interest in the potential health benefits of fava beans, including their possible anti-inflammatory effects. Fava beans are available wholesale at the Wholesale Produce Philadelphia from our team at
E. Armata Inc.
Continue reading to discover some of the notable health benefits of fava beans. 
What Makes Fava Beans Anti-Inflammatory?
Inflammation is a prevalent, natural response of the body to infection or injury, but it can also contribute to the development of chronic diseases, diabetes, heart disease, and some types of cancer. Anti-inflammatory foods, on the other hand, can help reduce inflammation in the body and the risk of these chronic diseases.
Fava beans
contain several compounds that are believed to have anti-inflammatory effects. These include phytochemicals such as:
Flavonoids 

Polyphenols

Protease Inhibitors

Essential Fatty Acids

Antioxidants
How to Include Fava Beans in Your Diet
Fava beans are a versatile food that can be used in a variety of delicious dishes, including soups, stews, and salads. They can also be cooked and mashed, like other types of beans, and used as a spread or dip. When buying fava beans, look for fresh, plump beans that are free of blemishes. They can be found fresh or canned in most grocery stores and are available year-round. These small legumes are loaded with impressive health benefits. If you are looking to purchase fava beans from Wholesale Produce Philadelphia, E. Armata Inc. has the freshest produce available to customers!
Contact Us
Fava beans are a rich source of anti-inflammatory compounds. These compounds, along with other nutrients in fava beans, can help reduce inflammation and the risk of chronic diseases. By including fava beans in your diet, you can enjoy the health benefits of this versatile and delicious legume. To learn more about the anti-inflammatory benefits of fava beans or our operation at the Wholesale Produce Philadelphia, be sure to
contact E. Armata Inc.
today!