At the time, the Washington Street Market was the epicenter of the New York produce world.  In the early days, the market had cobblestone streets and horse-drawn delivery carts that were unloaded by hand, as the day of the forklift had not yet arrived.  When trucks were introduced, there were still no platforms, so the produce was merely moved from truck to street level and sold. Men worked long, hard days; a sixteen or eighteen hour day was typical.  In the winter, Erasmo and other workers of the Market kept warm by big steel oil drums that were used as fire cans on most street corners.
As Erasmo's customer base grew, he expanded to sell other fruits, which also meant trading in the pushcart for a horse & wagon.  Later, as business continued to grow, Erasmo bought a small wholesale store in the middle of one of the blocks of the Washington Street Market – a bold business move at the time.
Erasmo's family grew, too.  He had five sons and one daughter.  Four of the sons, Pete, Frank, Joe and Nick went into business with him, and the Armata family had now become wholesalers in the Washington Street Market.  Soon Erasmo had the opportunity to buy a store on the corner of Washington and Chambers Street. The corner store proved to be a much better location that helped the business flourish, and Erasmo quickly became known for providing the highest quality fruit.
After 9th grade, Nick Armata first began to work in the family business with his father and three brothers.  In the late 1950's, Nick approached the family and suggested in order for the company to excel, they needed to expand into vegetables and get into the Western produce business for products such as lettuce, broccoli, cauliflower, etc.  This was a significant and essential move and meant someone would have to go to California and represent the company. 
Erasmo's sons, Nick and Frank, went to meet people in California and started developing relationships on the West Coast.  This wasn't easy, as they had to break through many lines of stereotypes, being young, Italian and from New York. So it was decided that someone would stay in California to cultivate those critical relationships.  The older brother, Frank, was then chosen to be the "West Coast guy." Frank agreed, and relocated to Arizona to continue to represent E. Armata and prove that the Armata family was honest, hardworking, and did business with integrity. This move helped solidify E. Armata as a key wholesaler of Western vegetables. 
With Frank's move, he became a ground broker; the old way to buy.  He often had to stay in dingy, second-rate hotels, away from his Arizona home, as he followed the crops from Arizona to southern California and traveled all the way up the coast, deep into northern California.  In order to ensure that only the best produce was shipped, this was mandatory…he had to personally walk the fields, and select the specific lots of the vegetables that would be shipped to New York. He was known as the family's "bird dog," and the relationships he forged 40 years ago still exist today.
While Frank bought products on the West Coast, Joe was subsequently purchasing fruit through the New York Auction, which at the time was the way it was done.  He would go to rail cars and bid on lots of already packaged fruit from the downtown auction. All products that were sold at the Washington Street Market came in and went out the same day since there was little to no storage, and no refrigeration.  At the time, all products were shipped in big, heavy, wooden boxes, and moved throughout the market using steel hand trucks with steel wheels that clanked on the cobblestone roads of Washington Street. 
 Erasmo was very proud of his product and only accepted the best. Everyone knew he would only buy and sell products that met his high standards, guaranteeing his customers would get the very best when they bought fruit and produce from him.  To keep the whole operation running smoothly, Uncle Pete focused on handling all the money and accounting in the office above the corner wholesale store, while Erasmo and the other brothers bought and sold the products.
When New York City decided to build the Trade Center, the city needed to find a new location for the Washington Street Market. The marshland in Hunts Point, New York was identified, and the new, state-of-the-art Hunts Point Market was built in 1967.
In 1968, at the age of 85, Erasmo Armata passed away before the company he built from the ground up moved to its new location.  Erasmo's four sons completed the move, and E. Armata, Inc. became one of the original 128 companies to occupy the new Hunts Point Market.  At that time, E. Armata had one location in Row A, also known as "Broadway," and over the years they have expanded to multiple locations throughout the market.  Through the years, the number of companies in the market has been reduced to 45, as some companies moved, some went out of business, while others grew. The Hunts Point Market to this day is still the largest market in the country.
E. Armata continues to be a successful, hands-on company, now with multiple divisions of high-quality products including fruits, vegetables, tomatoes, mushrooms, and specialty items.  E. Armata presently employs a hand-picked team of hardworking, dedicated and honest people. This team has the desire and heart for this business that Chris and Paul grew up with; a team that will propel E. Armata into the future.  The brothers know their father and grandfather would be very proud of what they have continued to accomplish with the company. Chris and Paul are also very proud of the people who work here. The family tradition of honor, quality, and hard work will continue with the 4th generation Armatas, Chris's children, Nicky, Chelsea, and Michael.  Each with their unique talents in business management, accounting, and sales, E. Armata's 4th generation has been brought up, like generations before them, learning the business from the bottom, so they can continue to uphold the traditions their great-grandfather started. A company with an obsession for quality, and a desire to sell nothing but the best fruit and produce, with the best service possible, is what the Armata family strives for.
E. Armata is a family run fruit and produce wholesaler in the Hunts Point Market that has been in business for over 100 years. With a modest start in Manhattan at the Washington Street Market, E. Armata is now one of the largest wholesalers operating in Hunts Point and is proud to now be in the 4th generation stage. E. Armata takes great pride in managing the company with integrity and the highest quality product available for all our customers – be they a large retail customer, institutional supplier, or small grocers who visit the Hunts Point Market for quality produce. Contact our Produce Wholesalers in Pennsylvania today if you have questions. We can ship to you from our location in NYC.
Over the last century, E. Armata has prospered as a leader among produce distributors in the tri-state area. Our brand prides itself on having a family tradition of loyalty to customers and partnerships with farmers and growers that span generations. We work with the most recognizable brands of fresh produce in the industry, as well as offering our own E. Armata label.
This guarantees proper cleanliness and optimizes quality to our customers. We are diligent about the inspection process and take the time to review all products being shipped out to our customers before delivery.  All of our quality teams are staffed and managed in-house at E. Armata Inc. and we take pride in being produce distributors in the Hunts Point Market that offers the freshest produce to our clients.
Food Safety:
At E. Armata Inc., we take pride in being one of the best produce distributors in the Hunts Point Market providing the highest quality products. Food safety and quality control are important in preventing food-borne illnesses such as Escherichia coli O157, Shigella, and Yersinia.  At E. Armata Inc., we are GMP-certified as well as a recipient of a 100 percent superior rating through the FDA's Hazard Analysis Critical Control Point (HACCP). Our commitment to food safety is evidenced by the practices we've implemented. Below are a few ways our team at the Hunts Point Market produces of the highest quality product:
We receive shipments daily
All of our trucks are temperature controlled
This method limits contamination of harmful bacteria and pollution many distributors experience during transport. For example, increased humidity causes increased the risk of spore and fungi production on fruits and vegetables.
We keep thorough track of our products
We specifically keep track of all the fresh food products we receive by immediately uploading a picture of them as they are delivered onto our iPad tracking system.  This means that we take the extra time to ensure all deliverables are up-to-date in our system to ensure quality.
We employ an experienced quality control team
Our employees are trained in Hazard Analysis and Critical Control Point (HACCP) quality control.  This process consists of seven principles: hazard analysis, identifying critical control points, determining critical limits, monitoring critical points, establishing corrective actions, developing record-keeping procedures, and establishing verification procedures. This ensures we continue to be provide top-quality produce in the Hunts Point Market.
Our inspectors are USDA-trained
Our inspectors are trained by the USDA Agricultural Marketing Service inspection standards, which is a nationally recognized agency that provides the standardization, testing, and grading of all food products sold in the US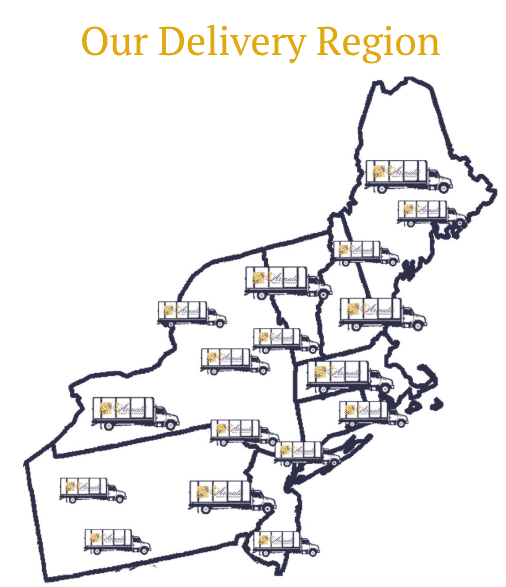 How can our Produce Wholesalers in Pennsylvania help you grow?
At E. Armata, we don't just take orders for delivery; we accept responsibility. As produce distributors located in the Hunts Point Market, our sales team follows these steps to help you:
We deliver fresh produce daily to efficiently fulfill your replenishment needs.
Our modern trucks are temperature controlled to make certain we meet your high-quality standards all year round.
We use the latest in technological advancements in order to maximize our shippers delivery schedules to accommodate both your business's needs and our growing demand.
To ensure the safety of our drivers and the communities we serve, we monitor and track the speed of our shipping vehicles.
We are committed to meeting all of our new and long-standing customers' needs.
E. Armata, Inc highly upholds our stringent Food Safety standards that are in place for the protection of our customers, our employees, and to the end-user of our products.  We are working in conjunction with the New York City Produce Terminal market and our shippers, closely monitoring the outbreak of the 2019 coronavirus disease (COVID-19). We are implementing the recommendations issued by the Center for Disease Control and guidance issued by the State of New York in addition to the stringent requirements to maintain our current Food Safety programs dictated by our SQF, HACCP certificate(a Food Safety Management Certification used to control food safety risks and audited annually by an outside certification body that signifies a food management system accepted as an international standard of excellence) for our entire facility.
The health and safety of our employees and customers and the safety of our product is our top concern. Under that criteria, E. Armata, Inc has created and implemented a Business Continuity Plan in the event of any possible disruptions.
Please know that we are monitoring the situation and our focus is maintaining everyone's safety. We will continue to work with public health official partners to determine what support may be needed in the coming days and weeks as the situation continues to evolve.  We will continue to update you with any new information.
Chris and Paul Armata
Ariel Muza, Director of Food Safety
---
What is a Produce Wholesaler?
Few things are more delicious than fresh fruit and produce in the summer. E. Armata Inc. is one of the largest distributors of fresh produce via our Produce Wholesalers in Pennsylvania operating in the Hunts Point Market. Our team is fully committed to our customers, and we take pride in providing them with the highest quality produce in a clean and organized cold-chain-compliant facility. To learn more about the role of a produce wholesaler, continue reading below.
What is A Produce Wholesaler?
Most shops, restaurants, and supermarkets do not grow their own produce and sell it. For this reason, they must outsource to get the products they need delivered to them. As leading produce wholesalers in Pennsylvania, we provide an essential service to our customers that is key to moving produce from farm to table. E. Armata Inc. is a fourth-generation operation that has been servicing the tri-state area for over 100 years. Our network of shippers and growers allows us to provide businesses with wholesale produce to meet the needs of their customers.
Distribution
E.armata Inc. has dedicated years to perfecting our wholesale operation to ensure the satisfaction of our customers. Our dedication has allowed us to design a seamless process to maintain quality and excellence. Here is a closer look at our process, via our produce wholesalers in Pennsylvania:
Wholesale produce distributors must cultivate and maintain relationships with quality shippers and growers to be successful. We have been building relationships for over 100 years, so you can be assured that you are receiving the finest fruits and vegetables.
Once the produce has reached us, it is stored in our state-of-the-art facility with over 60,000 square feet of temperature-controlled storage. We use RF guns for our racking system to meticulously keep track of our inventory, which allows us to service our customers more efficiently.
Our top concern is that our customers receive their produce while it's still fresh. We use temperature-controlled trucks to keep the produce fresher longer and monitor our drivers' speed to ensure safe drop-offs.
Contact Our Produce Wholesalers in Pennsylvania
When looking for a produce wholesaler, you want to make sure you're working with the best. E. Armata Inc. has set and maintained high standards since its inception over 100 years ago. Our commitment to excellence guarantees satisfaction and freshness. If you're looking to work with our produce wholesalers in Pennsylvania, be sure to contact our team today!
---
From Our Blog
Is Cantaloupe Healthier To Eat Than Watermelon?
Warm summer weather is right around the corner, and as temperatures rise, our taste buds may crave a slice of melon. Watermelon and cantaloupe are popular snacks and desserts between their low calorie and high water content and sweet flavor. E. Armata Inc. is proud to be among the leading produce distributors in Pennsylvania of melons with year-long supplies of cantaloupes and watermelons. If you're a fan of fresh melon, continue reading to discover the healthiest option! 
Cantaloupe vs. Watermelon
Most people have their favorites when it comes to melons. While each variety of melon contains unique nutritional properties, our Produce Wholesalers in Pennsylvania would like to focus on cantaloupe and watermelon. Here are some of the key differences between these fruits:
Cantaloupe
Contains more beta-carotene than watermelon.

Excellent source of potassium. 

Contains more niacin and folate. 

Contains more vitamin C than watermelon. 

Contains 125% more dietary fiber. 
Watermelon 
Contains more lycopene than a cantaloupe. 

Contains less sodium and more phosphorus. 

Watermelon is sweeter than a cantaloupe. 

Contains more iron than a cantaloupe. 

Contains less fat. 
While watermelon and cantaloupe are both healthy options, cantaloupe surpasses the nutritional benefits of watermelon. When choosing the perfect melon, there are a few things our team at E. Armata Inc. would like you to know. The perfect cantaloupe or watermelon should be firm and heavy for its size to ensure perfect ripeness. If you're looking for ways to use melons this summer besides eating them raw, here are a few suggestions from our Produce Wholesalers in Pennsylvania:
Add melon to a salad for a sweet touch. 

Make refreshing frozen ice pops by pureeing melon with sugar and lime juice. 

Infuse your water with melon for a delicious summertime beverage. 

Add melon to your smoothie for a sweet, mild flavor. 
Contact Our Produce Wholesalers in Pennsylvania
E. Armata Inc. is well-known in the industry as being a long-time supplier of watermelons, cantaloupes, and other melon varieties. Our long partnerships with growers across the globe have allowed us to serve our loyal customers best. For more health information about melon varieties or other general inquiries, be sure to contact our Produce Wholesalers in Pennsylvania today!
---
Can Watermelon Help Weight Loss?
Watermelon is a delicious summer treat loved by many. While watermelon won't melt fat away, it can be helpful for weight loss when you add it to a reduced-calorie diet. As one of the leading produce companies in New York, E. Armata Inc. distributes fresh and delicious watermelon to our customers. Continue reading to discover if watermelon can help weight loss and learn more! 
Watermelon for Weight Loss
If you're looking to lose weight or eat healthier, watermelon has many properties that make it an excellent choice for nutrition. Watermelon is a perfect snack, dessert, and delicious addition to many different recipes. Here are some of the benefits of eating watermelon from one of the top produce companies in New York:
Hydrating

– As the name suggests, watermelons contain mostly water, which is ideal for keeping your body hydrated. When you become dehydrated, you may experience fluid retention, making your belly appear larger. Watermelon can help you stay hydrated and help you avoid fluid retention. 

Low Calorie –

Watermelon is a healthy, low-calorie fruit that is cholesterol-free and contains less than a gram of fat. Reaching for watermelon instead of junk foods can help aid in your weight loss. 

Filling –

Eating foods that help you feel full for longer can help you reduce your portion sizes and help you lose weight. Watermelon is high in fiber, which promotes satiety, and its high water content helps extend the feeling of fullness. 
In addition to aiding weight loss, watermelon contains crucial vitamins, minerals, and antioxidants that can bolster your overall health and wellness and help your body function better as a whole. Making a conscious effort to swap typically unhealthy foods for healthy fruits can help improve your weight loss efforts. 
Contact Us 
As one of the top produce companies in New York, E. Armata Inc. is the best place to get fresh and delicious watermelon throughout the spring and summer months. Incorporating watermelon into your diet can help with your weight loss and become an exciting addition to a balanced diet. To learn more about our produce selections or for general inquiries about our operation, be sure to contact us today!
---
Is Produce In Season Cheaper?
One of the easiest ways to save on fruits and vegetables is to buy what is in season and at its most plentiful. An added bonus of this shopping strategy is that produce always tastes better when in season and is harvested closer to the peak of freshness. At E. Armata Inc., our produce wholesalers in Pennsylvania are incomparable. Our staff would like to share some information about the benefits of seasonal produce, so continue reading below to learn more! 
Is Produce In Season Cheaper?
One of the most important factors of food production is seasonality. The seasonality of produce varies based on the state or region. It's essential for customers to be aware of what crops grow best during different seasons for a bountiful harvest so that they know what to look for when shopping for produce wholesalers in Pennsylvania. There are several reasons to pay more attention to seasonal produce, including:
Seasonal Produce is Cheaper – Seasonal produce is generally cheaper than buying the same vegetables or fruits during their off-seasons. This is a result of supply and demand. Produce that is in season is plentiful, so it is sold at a lower price to maintain demand. Off-season produce is more expensive since it costs more to import from different regions. 

Better Taste – Seasonal produce often tastes better since it is being shipped more locally. These crops can be harvested at their peak freshness. Buying in-season produce is also a great way to broaden your horizons and expand your menu. 

In-Season Produce is Healthier – Produce grown and harvested during their appropriate seasons are nutritionally dense, as they can follow their natural growing and ripening process. 
Even though E. Armata Inc. has a vast assortment of fruits and vegetables year-round, purchasing in-season produce saves you money without sacrificing quality. 
Contact Our Produce Wholesalers in Pennsylvania
If you are interested in exploring seasonal produce for your business, E. Armata Inc. sources top-quality seasonal produce from growers across the country to satisfy our customers' needs. You can experience several benefits when buying from produce wholesalers in Pennsylvania, and the low price of these products helps you save money. To learn more about our available in-season produce or for other general inquiries, be sure to contact E. Armata Inc. today!